Client Success - Shakespeare Fishing Tackle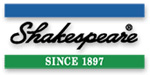 Shakespeare Fishing Tackle
Renowned fishing tackle manufacturer headquartered in Columbia, SC.
Business Overview
Founded in 1897 by William Shakespeare, Jr., an avid fisherman of 27 years, Shakespeare Fishing Tackle has been a revered name within the fishing business for more than a century. Among William's first inventions was the level-wind reel, which was designed to wind fishing line evenly back on the spool. Now common on most fishing reels, the level-wind reel was a revelation at the time, and helped propel Shakespeare into prominence in the early part of the 20th century. In the ensuing years, Shakespeare introduced such innovations as the Backlash brake, which prevented spools from backlashing; the glass fiber Wonderod; the pushbutton Wondercast spinning reel; the Ugly Stik tubular fishing rod; and the Synergy spincast reels. Shakespeare Fishing Tackle is headquartered in Columbia, South Carolina.
Business Objectives
Enhance inventory control processes throughout all facilities.
Improve inbound receipt and put-away processes
Improve outbound order efficiency and accuracy through all facilities.
Solutions
Warehouse Director (WMS)
Results
Increase in inventory accuracy of 136%
Increase in outbound fulfillment efficiency of 56%
Decrease in outbound order errors of 150%
Substantial improvement in customer services and management control
<< Return To Client Success List