Warehouse Layout and Slotting
Industry Focused Warehouse Layout and Design Solutions Maximize Efficiency, Quality and Performance.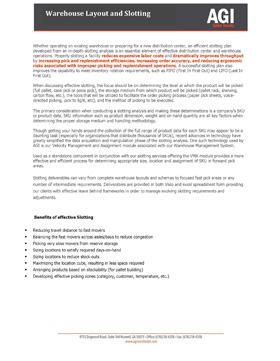 Download Brochure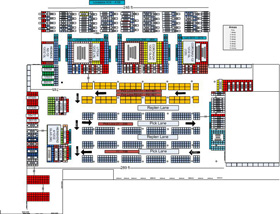 View Sample Layout
and Slotting Analysis
AGI Solutions By Service
AGI Warehouse Layout and Slotting Analysis
Whether operating an existing warehouse or preparing for a new distribution center, an efficient layout and slotting plan developed from an in-depth analysis is an essential element of effective distribution center and warehouse operations. Properly slotting a facility reduces expensive labor costs and dramatically improves throughput by increasing pick and replenishment efficiencies, increasing order accuracy, and reducing ergonomic risks associated with improper picking and replenishment operations. A successful layout and slotting plan also improves the capability to meet inventory rotation requirements, such as FIFO (First In First Out) and LIFO (Last In First Out).
When discussing effective design, the focus should be on determining the level at which the product will be picked (full pallet, case pick or piece pick), the storage medium from which product will be picked (pallet rack, shelving, carton flow, etc.), the tools that will be utilized to facilitate the order picking process (paper pick sheets, voice-directed picking, pick to light, etc), and the method of picking to be executed.
The primary consideration when conducting a slotting analysis and making these determinations is a company's SKU or product data. SKU information such as product dimension, weight and on-hand quantity are all key factors when determining the proper storage medium and handling methodology.
Though getting your hands around the collection of the full range of product data for each SKU may appear to be a daunting task (especially for organizations that distribute thousands of SKUs), recent advances in technology have greatly simplified the data acquisition and manipulation phase of the slotting analysis. One such technology used by AGI is our Velocity Management and Assignment module associated with our Warehouse Director Software.
Used as a standalone component in conjunction with our slotting services offering the VMA module provides a more effective and efficient process for determining appropriate size, location and assignment of SKU in forward pick areas.
Slotting deliverables can vary from complete warehouse layouts and schemas to focus fast pick areas or any number of intermediate requirements. Deliverables are provided in both Visio and excel spreadsheet form providing our clients with effective leave behind frameworks in order to manage evolving slotting requirements and adjustments.
Benefits of effective Layout and Slotting
Reducing travel distance to fast movers
Balancing the fast movers across aisles/bays to reduce congestion
Picking very slow movers from reserve storage
Sizing locations to satisfy required days-on-hand
Sizing locations to reduce stock-outs
Maximizing the location cube, resulting in less space required
Arranging products based on stackability (for pallet building)
Developing effective picking zones (category, customer, temperature, etc.)
If you would like additional information about AGI's Assessment services and/or any of our other solutions, please contact AGI for more information and pricing.