AGI provides the most affordable Tier 1 Warehouse Management Solution For Food, Beverage, Manufacturing and Logistics Services Providers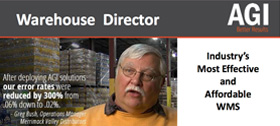 Download Brochure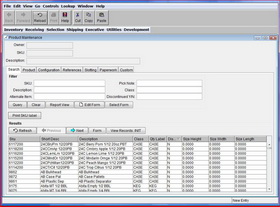 View Warehouse Director
AGI Solutions by Product
AGI's Warehouse Director is a comprehensive Warehouse Management System (WMS) that has been delivering industry leading results for years because it provides best-in-class logistics process execution that delivers truly measurable ROI and productivity gains in inventory, labor, physical space, time and costs. Extending far beyond basic picking, packing and shipping, Warehouse Director leverages advanced logic to mathematically organize and optimize warehouse operations and transform your warehouse logistics into a critical strategic component in your supply chain.
Engineered for unique industry verticals Warehouse Director enables flexible facility configuration, multi layer execution strategies, real time management and visibility and responds quickly to shifting demand to optimize performance. It also enhances inventory management by increasing accuracy, improving order fulfillment and reducing order cycle time. Receiving and shipping are streamlined as well to facilitate cross-docking and expedite back-ordered products. And cycle counting capabilities eliminate annual physical counts.
Additional Warehouse Director benefits include the ability to:
Automate picking, packing and shipping and minimize the number of moves per order
Improve the accuracy of every order and reduce safety stock
Consolidate orders to reduce transportation and shipping costs
Eliminate annual physical counts
Reduce expenses on labor and storage by managing tasks and improving processes
Plan and balance workload and monitor activities with Load Director integration
Improve warehouse layout for faster fulfillment and overhead reduction
Minimize the need for warehouse space with cross-docking and flow-through capabilities
Provide voice-enabled capabilities from pick/pack to forklift operations through integration with Voice Director
Facilitate efficient receiving and disposition of returns
Integrate material handling equipment (diverts, inductions, pick/pack, complex sortation)
Support numerous parcel and LTL carriers, including native rating, routing, label and paper manifest generation, and end-of-day electronic invoicing
Contact an AGI representative to learn more about how our industry-leading Warehouse Management solution can optimize your warehouse operations.