AGI Delivers the Highest Levels of Operational Performance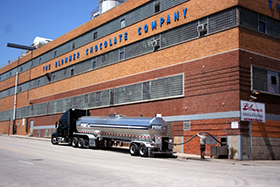 AGI Solutions by Industry
For more than a decade, AGI has been instrumental in assisting food manufacturers and distributors track and ship products throughout their enterprise and trading partner network. Some of the largest companies in the world trust AGI for these complicated distribution tasks. Food companies like Blommer Chocolate, Atkinson Candy, Frito Lay, and others depend upon AGI solutions to empower their supply chain.
AGI solutions have been proven in the field when customers demand reliable performance for multi-shift, multi-plant enterprises in tough to track environments. Our solutions are tailored to very specific industries including Food, Beverage and Manufacturing/Industrial insuring deep functionality and domain expertise in all of our products and services.
AGI's Warehouse Director is designed for users who need to instantly handle any product recalls throughout their supply chain. Since we focus on true food-grade lot tracking in all of our applications, we exceed all FDA mandates.
AGI's Food Solutions Provide:
Comprehensive Warehouse Management (very extensive, food grade)
Direct store delivery, Load and Pallet design automation
Proven Voice Picking capability
Lot tracking with Catch Weights (food grade)
Lot and Expiration Date Configurable Rules
GS1 Bar Code Automation for catch weights, lot, etc.
Supports all FDA mandates
Process Manufacturing with Lean Accounting Methods
PLC, Scale, and Metering systems connectivity
Unlimited units of measure
Quality Control - Quality Assurance Logic
EDI connectivity for ASN's, RFID, etc.
Real time visibility for all functions
Fully integrated to a wide variety of ERP, Accounting and Manufacturing systems.