Improve Operational Performance, Quality and Service and Improve the Bottom Line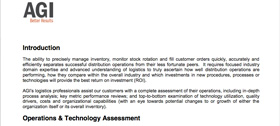 Download Brochure
AGI Solutions By Service
The ability to precisely manage inventory, monitor stock rotation and fill customer orders quickly, accurately and efficiently separates successful distribution operations from their less fortunate peers. It requires focused industry domain expertise and advanced understanding of logistics to truly ascertain how well distribution operations are performing, how they compare within the overall industry and which investments in new procedures, processes or technologies will provide the best return on investment (ROI).
AGI's logistics professionals assist our customers with a complete assessment of their operations, including in-depth process analysis; key metric performance reviews; and top-to-bottom examination of technology utilization, quality drivers, costs and organizational capabilities (with an eye towards potential changes to or growth of either the organization itself or its overall inventory).
Operations & Technology Assessment
This engagement typically lasts anywhere from five to twenty five business days at the customer site (depending on the overall complexity of the operation), with a proportional number of work days back at AGI finalizing operational analysis and deliverable preparation.
While quite helpful in scoping overall distribution process and technology needs, AGI's assessment is independent of any specific vendor or technology solution, instead providing a comprehensive analysis of current operational metrics and the potential for future efficiency gains. A conceptual flow of both current and future state processes will be provided (along with cost metrics) and will be aligned with anticipated technology investments in order to provide a quantifiable return on investment summary. In addition, AGI will recommend improvements to the warehouse operation based on an evaluation of the data collected and any specific requests of the customer.
Over the course of AGIís Assessment our Distribution Consultants provide the following:
Inbound & Receiving Process Assessment
We evaluate important characteristics of the receiving operations, including the following:
receiving capacity and speed, quality reconciliation and tracking, systems integration and personnel.
Put-Away Process Assessment
We assess Put-Away operations and address important issues, including the critical question as to how well are storage locations managed?
Storage Process Assessment
We review storage procedures and highlight key storage issues. Are storage slots organized to maximize pick density and minimize pick times? Does the warehouse make appropriate use of pallet rack for bulk storage and flow rack for high-volume picking? What material handling equipment or conveyor systems are used and/or needed during storage processes?
Restocking Process Assessment
We determine which features of the customer company's restocking processes are most critical and how effectively they are being managed. How well is execution of restocking to pick row areas conducted?
Order Picking Process Assessment
We analyze order picking for efficiency, accuracy and effectiveness. Are inventory availability checks based on real-time data? Do slotting plans and automation minimize travel and pick times? What is the level of automation technology used (with respect to scan, voice, weight validation, sortation devices, etc.)? Does the company utilize zone, batch or wave picking techniques? Is picking primarily each-pick or case-pick? How are rush/expedited orders handled?
Loading Process Assessment
We examine loading and route management processes in detail. Are routes static or dynamic, how are routes built each day. Are they optimized? How is the loading process managed for quality and speed?
Ancillary Processes Assessment
We review other processes that may occur in the warehouse such as repacking and breakage management, date code rotation, SKU addition/deletion processes and route returns processing.
Quality Assurance Process Assessment
We ascertain whether quality control is an implicit part of all warehouse operations. What are the processes for inspection of received goods? How does the company check for order completeness and accuracy? Is statistical process control practiced and, if so, with what degree of sophistication? Are there manual or technical quality checks?
Layout Assessment
We inspect the layout of the warehouse. Do products flow continuously through the warehouse or are there stoppage points that require costly double-handling? Are receiving and shipping located such that throughput is maximized? Are lane depth and width appropriate? Is rent per square foot higher or lower than market? What percentage of storage capacity is utilized? What are the expansion options?
Inventory Control Assessment
Quality inventory information is one of the most fundamental drivers behind a successful distribution operation. Is inventory scanned at all transaction points to ensure complete visibility of raw materials, work in process, and finished goods? Can accurate and current order status be attained easily?
Labor Assessment
We calculate labor requirements based on statistical per unit volumes of similar beverage operations and determine if the warehouse is overstaffed, properly staffed, or understaffed. We calculate throughput potential based on current staffing. We review training procedures and materials for in-house and contracted labor. We review warehouse employee hiring trends, evaluate union involvement and informally assess employee morale.
Facilities Assessment
The facilities are evaluated in comparison with overall operational needs. Is the warehouse clean and well-cared for? Is the warehouse well lit? Is there appropriate safety and compliance signage within the facilities? What security precautions are in place to prevent theft? Are heating and air conditioning systems sufficient? Are break areas comfortably designed for employees?
Key Metrics Assessment
We collect various productivity statistics specific to beverage distributors such as case/unit picks per person-hour, order fill rates, order error rates and associated specific per unit costs for each metric.
Technical Infrastructure Review
We evaluate the use of technology within the operation including current accounting, manufacturing and/or supplier systems, use of Warehouse Management System (WMS), Radio Frequency (RF), Bar Code, Electronic Data Interchange (EDI) technologies, and Automated Material Handling Equipment. How well do in-house technologies support current and future needs? Are reporting capabilities sufficient?
Back To Top