AGI Customers Lead their territories in performance and quality.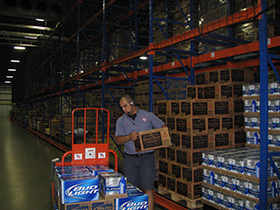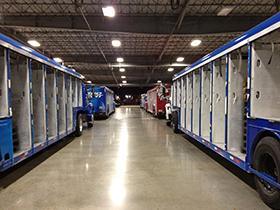 AGI Solutions by Industry
Whether you deliver a half million cases or 20 million - Beverage distributors and wholesalers face relentless pressure to move high volumes of proliferating SKUs in and out of their warehouses. To ensure margins, distributors must perform receiving, put-away, picking, truck load planning, and direct store deliveries with the utmost proficiency.
AGI delivers uniquely designed beverage solutions that are focused on customer service, efficiency and accuracy metrics without encumbering operators with unnecessary processes or procedures to ensure the highest levels of operational performance.
AGI's Beverage solutions provide a complete end-to-end beverage distribution system that is scalable to support distributors of any size and budget. The solution renders real-time visibility and control of all stages of the distribution cycle including order management, inbound receiving and returns processing, multi mode picking, load planning, quality control and delivery.
Industry Leading Performance in a Highly-Configurable Beverage Solution
Our modular approach combines specialized beverage functionality with all the benefits of AGIís world class Warehouse Director WMS. Integrated into virtually all route accounting systems our solutions enable substantially reduced daily execution management and increased accuracy and productivity to levels unmatched in the market.
AGI's beverage solutions include:
Comprehensive engineering and facility layout services delivered by seasoned industry experts which optimize space and efficiency.
Comprehensive inventory control and real time visibility to stock location, seasonal product, date codes and more.
Enhanced receiving and put-away: ASN interfaces from the brewery or bottling plant use rules-based cycle accounting and other functionality to ensure accurate receiving, put-away and automated order replenishment.
Best in class automated load design, pallet design and layer optimization utilizing AGIís Load Director including support for multiple delivery strategies such as pick by stop, mix stop, side load mix, summary pick or a combination by route.
Proven, flexible and multi mode Voice Execution solution which optimizes performance ensures accuracy.
Productivity enhancements: use real-time dashboards to eliminate bottlenecks in picking and loading during progression of pick waves to ensure timely loading of trucks.
Touch screen driven Layer Director providing optimal layer picking execution and quality.